Customer case study
Getting Real Results With Myphoner

Industry

Executive Office (Including Teleservices)
Location

Australia (Headoffice)
Mission

Equip every entrepreneur with the talent they need to grow their business.
Type

B2B
Website
Social
Favourite features
Lead queue

Avoid lead fishing and stay focused by queueing up leads intelligently.
Power Dialler

Increase call rates with automated dialling.
Agent performance cards

Find the best performer, understand what works and improve the team.
We needed a robust system not only easy to use but also providing transparency, accountability & vital reporting.
Myphoner is the perfect balance of simple yet capable.
Ben Butcher
Business Development Manager, Zembr
Founded a little over 2 years ago in Australia, Zembr handles any business processes that can be completed remotely in any time zone. They provide a scalable solution to forward-thinking entrepreneurs and businesses.
Zembr works with a wide range of businesses, from the construction to the culinary industry, medical and any industry in between. Their mission is "to equip every entrepreneur with the talent they need to grow their business".
We sat down with Ben Butcher, the teleservices team lead in Zembr, to see where Myphoner fits in their tool kit to help their clients succeed.
Why Myphoner
Zembr started using Myphoner early on in their organization. They wanted or instead needed to have a robust system that was not only easy to use but also provided transparency, accountability & vital reporting.
Zembr was using a spreadsheet application which was a great application but not fit for their needs as a growing business hungry for transparency and easy to view data.
Myphoner stood out to the founder and CEO Eloise and her team from the start as it provided everything they needed and solved their pain points which where:
Overview of campaigns by management.
Reporting to clients.
The need to keep agents focused on calling.
Zembr was able to use Myphoner to overcome those pain points by utilizing our unique features such as the queue, robust list, agent & detailed overview reports, along with the ability to export all data at any time.
Early on, Zembr loved Myphoner because of our openness to input and feature requests. Our willingness to work together gave Zembr the confidence that they have chosen the right application for themselves and their clients.
Myphoner in the Sales Process
Zembr uses Myphoner as a sales and marketing tool by introducing our platform in the sales process.
Ben explained that clients generally want agents to use their own CRM. This, however, is not a scalable method as it means less transparency, learning multiple new applications and adds further complexity.
They thus introduce Myphoner early on in the sales process for teleservices - explaining to clients what Myphoner is and how it can be utilized for teleservices.
By using Myphoner, Zembr can easily manage multiple campaigns and show ROI for clients with a click of a button.
Myphoner is a dedicated cold calling platform, that automatically queues the leads and provides transparency and efficiency in reporting. We use it as our weapon of choice.
Ben Butcher
Business Development Manager, Zembr
The key argument toward their clients to using Myphoner is that it's a dedicated cold calling platform, that automatically queues the leads and provides transparency and efficiency in reporting.
Potential clients are generally won over when Ben shows them the reporting and dashboard tools which provides a clear overview for campaigns at a glance.
As the client is onboarded within Zembr, they discuss the best categories for the Callback | Winner | Archive action buttons and what to expect with regards to reporting as the campaign progresses.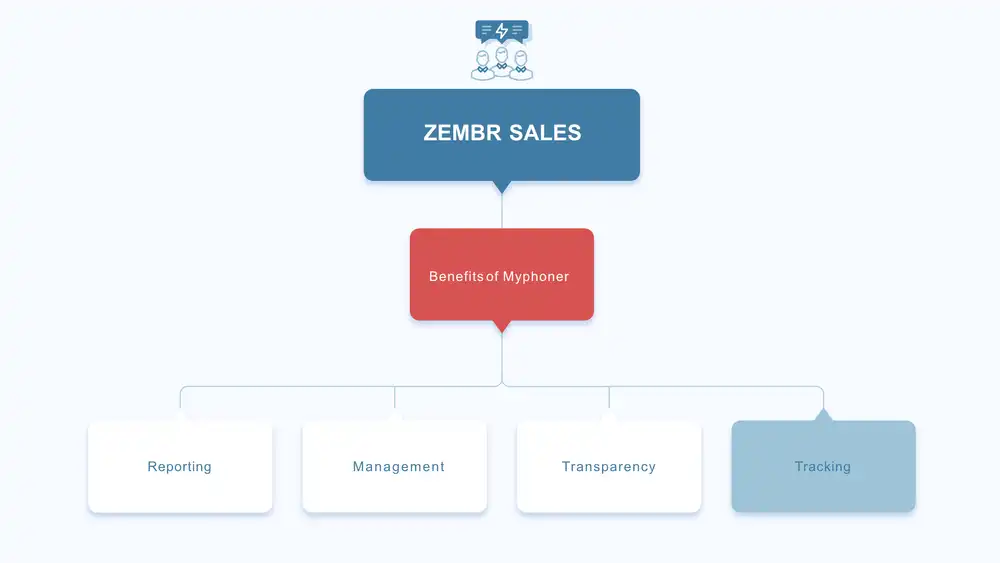 Teleservices Agents Day to Day
Teleservice agents using Myphoner during campaigns will work through campaign lists by calling leads, set the correct follow up times and criteria. Ben mentions how Myphoner is excellent at keeping agents motivated to keep calling as it provides them with a single focus (the lead in front of them!).

Agent's make use of the lead view deduplication to decide on which lead is best to call if there are duplicates within the same company.
Zembr's typical role is turning cold leads to warm ones and then handoff to the clients to complete the sale.
They do this by calling leads and then moving them through an internal process. If leads are interested, a specific category (under Winner) is selected. Once the initial list is completed, Ben will then migrate the leads that are interested (lukewarm) for further nurturing to a new list. The agent then repeats the workflow until the lead is ready to be sent to the client. By creating this workflow, they can ensure no lead is dropped.
Reporting & Updating Clients
Zembr has created its own reporting documentation for their teleservices campaigns. They use reports directly from Myphoner to show the number of leads Won/Lost, time spent as well as a plethora of other information that Myphoner provides.
Warm leads are exported by Ben and sent to clients to import into their CRM to complete the sales process. Depending on the campaign, the client may move the lead back to Zembr for further nurturing.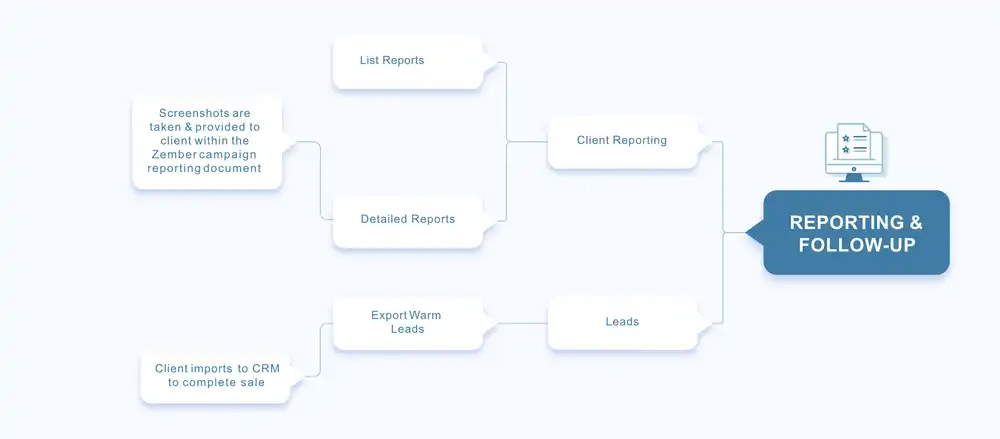 Onboarding Agents
Speaking to Ben about how they have onboarded their 14 agents, he stated that Myphoner is such an intuitive application that it's straightforward for them to grasp how Myphoner works. Their general workflow is the agent will go through the internal training video created by Ben. They are then provided with test lists and/or internal sales lists to get used to Myphoner.
They then move to a Q&A session where he answers questions, and within a few hours, they are up to speed using Myphoner. "Myphoner is so simple our 70-year-old teammate started using it with no hassles."
Zembr & Myphoner Growing Together
The team at Zembr and especially Ben, is excited to learn how to further utilize Myphoner in the most effective ways possible. They are specifically looking forward to enhanced deduplication, list level email syncing and hopefully in the future direct CRM integrations.
Ben sees Zembr working with Myphoner for many years to come and is excited for what the future holds. In fact, Zembr will start trialling Myphoner Voice and aim to move their entire team over to it once initial testing is completed.
Myphoner enables our business to deliver real value to our clients. Not only the results, but also the visibility of those results.
Eloise Butcher
Founder, Zembr
empezar en minutos. 14 días de prueba gratis en todos los planes.