Power dialer semplice e conveniente
Myphoner è una soluzione per chiamate a freddo semplice ed economica che ti consente di concludere più affari a un prezzo inferiore.



Myphoner offre una trasparenza completa sulle prestazioni di ciascun agente e sull'efficacia delle nostre campagne.
Increase performance and reduce noise
Myphoner is a unique sales tool for cold calling, combining a lightweight sales CRM with a superior lead queue and power-dialer into an easy, but efficient auto dialling app for sales teams.
Our solution consists of an online phone dialer with automatic dialling and easy scheduling of follow-ups, which help sales teams increase performance and reduce noise when conducting B2B sales calls.
With features like built-in call recording, accessible performance insights and activity reports as well as attractive rates around the globe, Myphoner is a natural choice for in-house product sales teams as well as agencies.
Power dialer pricing
The power dialer runs on our built in VoIP solution - Myphoner Voice.
Select a destination to view the rates.
Included in 
all
 paid plans
---
1 free number from US, UK, or Canada.
Additional phone numbers are subject to an additional charge.
Call recording baked right into the platform.
Voicemail drop saves you time and delivers a consistent pitch.
Intelligent retry strategies increase call rates significantly with auto-dispositioning.
Free 14-day trial on subscription.
Calls are prepaid and requires credit card or PayPal.
Start calling today! Pay for what you use, no binding and no extra call fees.
Freedom of choice
Prefer to use another means of calling? Myphoner Voice is optional, and you can bring your own provider instead.
Call recordings included
Record calls for free if you like. Depending on your plan, we retain call recordings for up to 90 days.
Worldwide coverage
Call from anywhere to everywhere. We cover the whole wide world with premium quality and service.
Local numbers
Get local numbers in 60+ countries. We help you signal trust and get more connected calls.
Cancel anytime
Just stop using Myphoner Voice if you don't need it – no binding and no hidden fees.
Money back
Use any remaining credits when renewing your subscription or get a refund if you cancel it.
4.7
94 reviews
Myphoner aggiunge davvero valore quando si tratta di effettuare molte chiamate in breve tempo. La composizione rapida è molto più semplice e funziona anche meglio degli strumenti inclusi nel mio CRM.

Jeroen Teiwes, Business Development
Speakap
How does the Myphoner power dialer work?
Our unique workflow is tailored to the top-of-the-funnel where multiple touchpoints are usually required before leads turn to prospects and customers.
The power dialler within Myphoner consists of a complete toolset which includes:
Auto-dial initiates the call to the next lead immediately when selecting disposition for the last.

Intelligent Retry Strategies boosts agent efficiency by automatically postponing & moving to the next lead on no answer or busy tone & archives invalid leads.

Voicemail Drop allows agents to quickly select a voicemail and move to the next lead immediately while it plays.

Inbound capabilities handle calls when a lead returns the call, whether that is playing a message, taking them through an IVR or connecting directly with your agents.

Live Monitoring let supervisors monitor, listen in on calls and whisper to agents while on-call. Training new agents and optimizing the performance of a remote team has never been easier.
Read the full feature list
The Myphoner Voice webphone is located at the bottom of the browser window
Help
Frequently asked questions
What is a power dialer?
A power dialer is an outbound telephone system that automatically initiates a call to the next sales lead when the sales agent is ready.
Power dialer software let the agents focus on the sales conversation, by removing manual work such as dialling or deciding which lead to call next.
Combined with a lead queue, a power dialer can drastically increase the productivity of your sales team. Myphoner provides this system. We give you a state-of-the-art lead queue with a power dialer on top.
How does a power dialer work?
The power dialer works by automatically starting to dial when the agent views the next lead.
A power dialer reduces processing time because the call is already active without the agent having to type or even click anything.
Further, the call ends automatically, and the next one starts automatically, as soon as the agent selects a disposition (outcome) of a phone call.
What are your rates? Can I save money?
Our rates are per minute, but we split the minutes down to seconds when we charge. This way, you are only charged a fraction if you only call for a few seconds. Most other vendors round up to the nearest minute when calculating the cost of each call. We do not. We only charge for the actual time the call took.
Talk to us, and let us help you estimate how much you can save by using the Myphoner power dialer.
Can I call destination X?
Yes. We cover the entire world. Certain numbers, such as overly expensive numbers, satellite connections etc. are blocked in our network.
I have agents in Country Y, will it work?
We have servers in North America, Europe, MENA, South Africa and Australia. Agents outside these regions may experience delays. Talk to us if you are having trouble.
What are the requirements to use the power dialer?
The Myphoner power dialer is an online phone dialer that runs in the browser. It is well-suited for working from home as well as from an office.
To use the power dialer, all you need is:
Computer with a browser (Chrome, Safari or Firefox recommended)
Internet connection
Microphone and speakers or a headset
Our dialer is well suited for freelancers and teams up to 50 agents.
How to use a power dialer?
To use a power dialer efficiently, you must fulfil the requirements and understand the intended usage and workflow of the CRM system hosting the phone software.
When it comes to the Myphoner power dialer, all you need to get set up is a computer with an Internet browser, an Internet connection and a headset (or similar sound equipment).
We have several help articles readily available to get you started with Myphoner Voice, and should you need us, our world-class support team is ready to help out around the clock.
Power dialer vs. predictive dialer
A predictive dialer tries to predict the ratio of people that will pick up the phone and initiates enough calls to connect all available agents with an active call based on the expected rate. This approach leaves a risk of losing leads that pick up when there's no available agent.
A power dialer, on the other hand, is automated, but non-predictive. The power dialer will still let sales agents work very efficiently but with a risk that they must wait in between calls when people don't pick up.
Thus predictive diallers are more suited for larger teams, like call centres with 50+ agents, that prioritize keeping agents busy rather than being able to talk to every lead, e.g. in a B2C campaign.
Power dialers are better suited for small to medium-sized teams and especially B2B sales where each prospect has a higher potential.
Advantages of a power dialer
Advantages over manually dialling
No waste of time dialling manually
Eliminates or reduce lead fishing and skipping leads
Improves agents experience and productivity
Increase agent productivity
Efficiency & No typing errors
A power dialer dramatically improves the experience of sales agents as well as their efficiency, removing the need to dial every sales lead as well as deciding who to call next.
Advantages over predictive dialers
Your prospect will always speak to a live agent
No delay at the beginning of the call for the prospect
Agents can research and post-process sales calls
No lost calls due to agent availability
Perfect for B2B campaigns
Quality & No lost calls
A power dialer is efficient but not aggressive like predictive dialers. With a power dialer, you can work efficiently with a smaller team, and your connect rates will be better, which is essential, especially in B2B campaigns.
What industries can benefit from using a power dialer?
Education, coaching and counselling
We have customers in many sectors
Our customers span a range of industries, all drawing benefits from using our unique workflow and power dialer.
Some of those industries are mentioned in this list.
La velocità con cui i miei interlocutori freddi sono in grado di chiamare è la mia preoccupazione principale. Ottimizzare il loro tempo è stato un ENORME punto di forza quando abbiamo considerato Myphoner.

Ottieni Myphoner
Semplice soluzione di tracciamento dei lead attraverso un flusso di lavoro unico per le chiamate a freddo.
Scegli il tuo piano
Never miss a follow up again
Our lead queue and unique workflow let agents schedule follow-ups flexibly and with ease. It can take as little as a single click to schedule a follow-up call and move on to the next lead.
Prospects are automatically prioritised in the queue when scheduled, and we also send out notifications when a follow-up is due.
Use our powerful scheduler to stay on track and persistently follow-up on leads
Boost agent efficiency
The Myphoner power dialer help agents speed up their dial rate significantly by eliminating repeated tasks and automating where possible.
Auto-dial & pre-dial on disposition initiates the call to the next lead immediately when selecting disposition for the last

Intelligent Retry Strategies postpones & moves to the next lead on no answer or busy tone & archives invalid leads

Voicemail Drop allows agents to quickly select a voicemail and move to the next lead immediately while it plays
Intelligent retry strategies help agents speed up their call rate significantly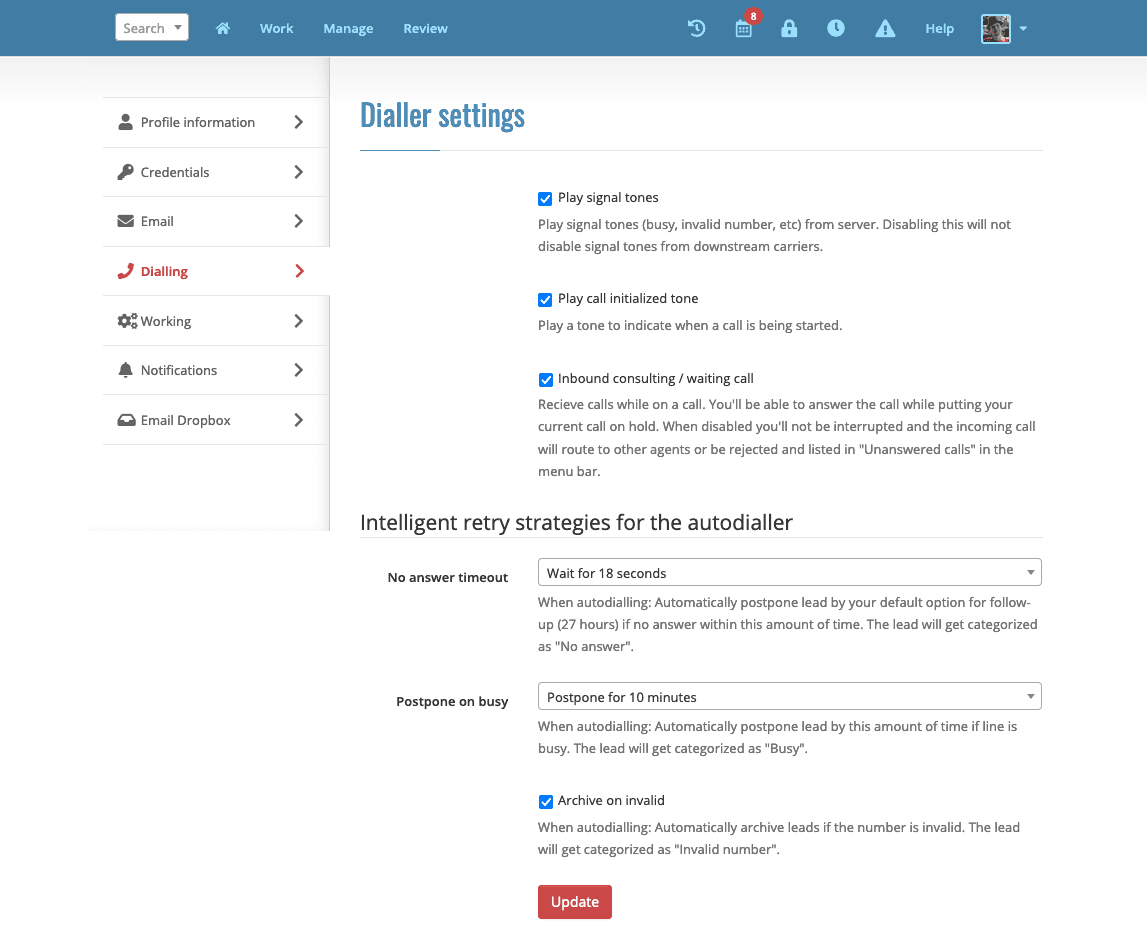 Handle inbound elegantly
Handle inbound when a lead returns the call, whether that is playing a message, taking them through an IVR or connecting directly with your agents.
Define call flows for routing calls to active agents, playing music or redirecting the call

Easily set up call groups of multiple agents and use them in the call flows you define

Agents can opt-out of getting inbound calls when they are on another, active call

Upload and manage sound bits for playing music or menu-instructions for inbound callers
Setting up IVR in Myphoner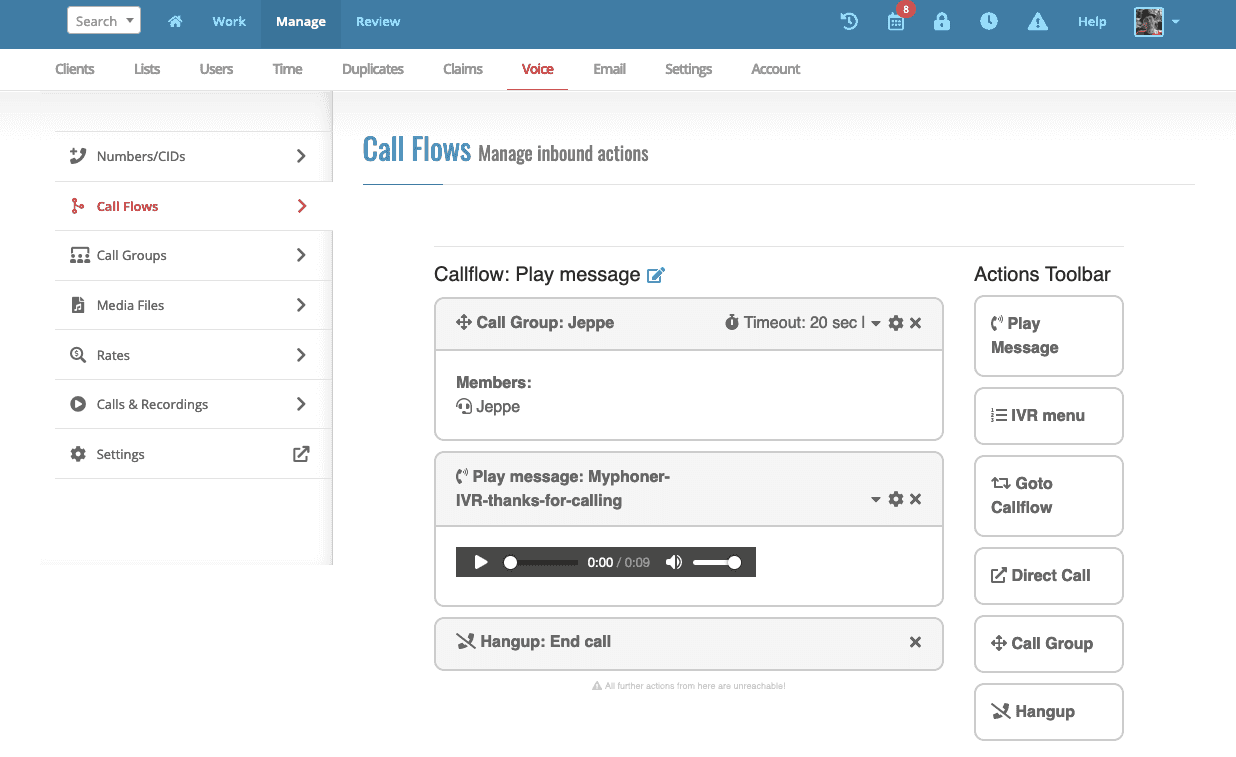 Train your agents with Live Monitoring & Whisper
View agent's activity as it happens. The live monitor will display all agents and their current with indicators on changes in call status, switching between leads etc.
Listen in on any calls with a single click to review and collect feedback for your agents.
When listening to a call, you can enable whisper, which lets you talk to the agent while on call, without the lead being able to hear you.
Live Monitoring in Myphoner
Understand your performance
Myphoner provides insights to agent performance, campaign activity and any details you might want with three types of reports that enable you to analyse the performance of your team and identify bottlenecks at an instant.
Agent performance reports

Campaign activity reports

Detailed sales call reports
More about sales reports
Agent performance report
Scale with ease
Adding or removing agents is easy, and Myphoner keeps track of claimed leads and adjusts each agent's queue automatically with our dynamic lead distribution.
Adding and updating lead data can be done on-the-fly or in bulk, all while your agents are working.
Invite your clients or managers to follow along as you progress, with secure access to scoped sales performance reports.
Create and assign segments to let agents work and compete in focused campaigns with comparable leads.
Personalised campaign dashboard in Myphoner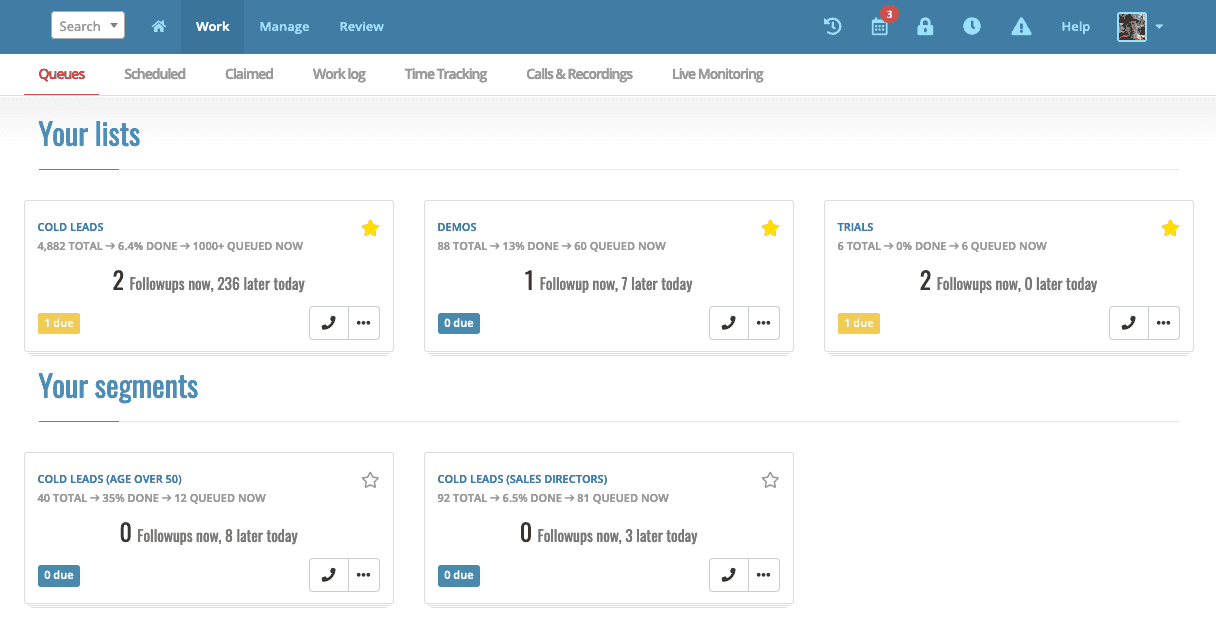 Inizia a minuti. 14 giorni di prova gratuita su tutti i piani.