Lead Deduplication Software
Easily merge important information between duplicate records, building the best, most accurate single record possible.
Automatic Duplicate Detection
Having duplicate contact data is a common issue, especially when adding more leads over time.
Data scrubbing can be a pain, but it is necessary to retain a clean list to avoid confusing or even angering your customers.
Duplicate detection is enabled and works out-of-the-box in Myphoner. However, if you have more specific needs, Myphoner lets you tweak each list to let you decide how duplicates should be detected.
Detects duplicates on e-mail and phone out-of-the-box.

Allows you to tweak settings to detect duplicates based on arbitrary data.

Sit back and let Myphoner do the work!
Selecting the data points for detecting duplicates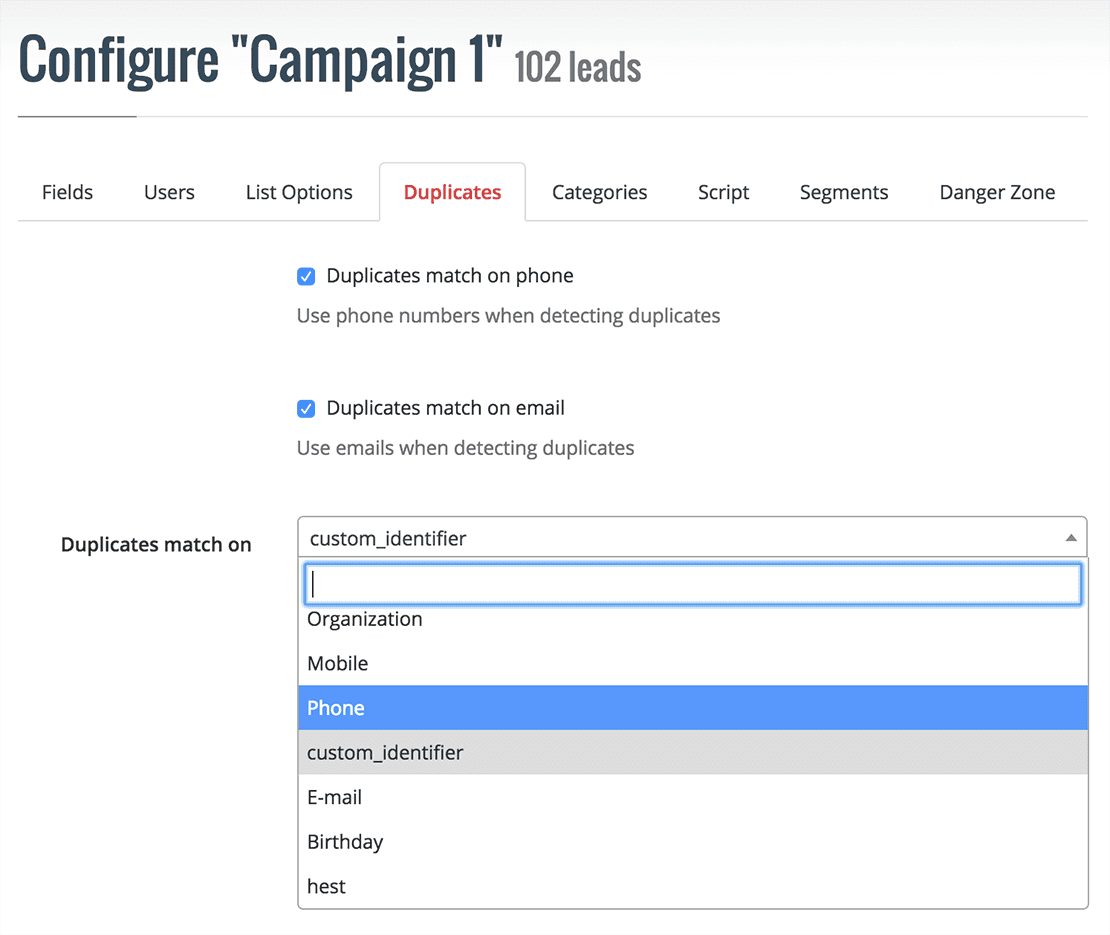 Duplicates Overview
As an administrator, you have a duplicates overview page, where you can view and handle duplicates for your account. Each set of duplicates is displayed in a different view, making it easy for you to review and decide on an appropriate action.
We've designed this dedupe facility with the primary goal of letting an administrator handle a large volume of duplicates as quickly and efficiently as possible.
The compact merge view let's you decide on each set of duplicates with as few clicks as possible, and, when you require more details to decide, the detailed merge view is right at your fingertips.
Everything is handled inline and automatic scrolling makes sure duplicates are loaded up as you go along, so there is no need to change or reload pages, allowing you to focus your energy on deduping your leads and scrubbing your data.
Different view for easy comparison.

Easily switch back and forth to detailed view.

Handle a high volume of duplicates quickly.

One click to dedupe a lead.

Automatic scrolling lets you focus on decision-making while Myphoner dedupes your data.
Example of a duplicate report in Myphoner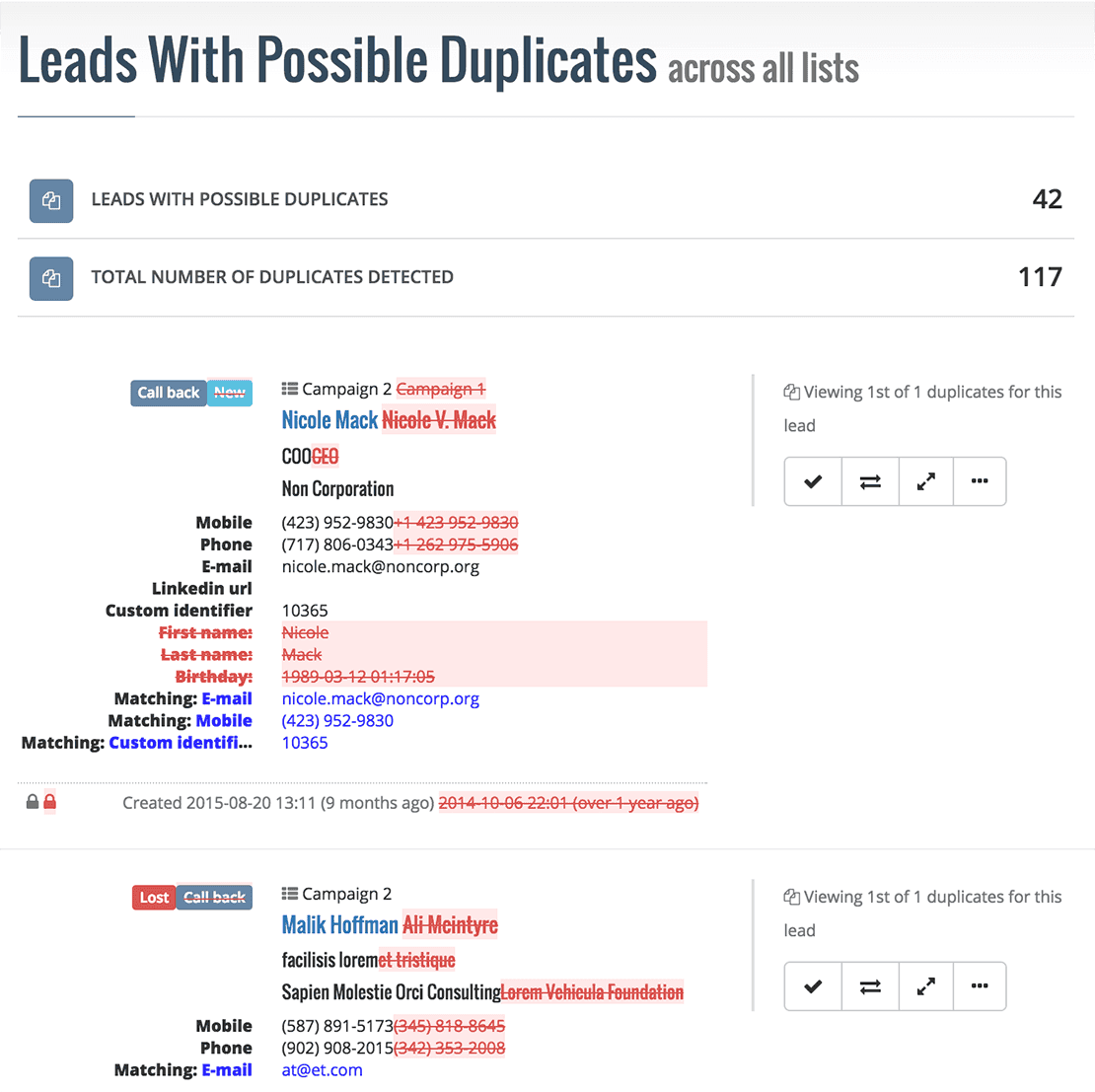 Inline Duplicate Handling
We save you the hassle of having to dedupe everything manually, allowing you and your team to work without worrying about duplicate data.
When viewing a lead with possible duplicates, you'll see a warning and will be given the option to dedupe.
Whether you want to merge, delete or ignore the duplicate lead, you'll be able to return to making sales calls in a few seconds.
Myphoner even allows agents to dedupe as they work their queue.
Minimal interruption when duplications occur.

One-click action can handle many duplicates at once.

Deduplication can be delegated among your team.

Campaign centric deduplication, only look for duplicates in the current campaign.
Handling duplicate leads when working your queue
Detailed Merge View
Sometimes you need more detail to know what to do with a duplicate. With Myphoner, those details are at your fingertips. Just hit the "expanded merge view"-button and you'll see the duplicates aligned side by side for easy comparison.
Once the situation has been handled to your satisfaction, you'll be returned to your queue to continue making sales!
The detailed merge view includes:
All lead data, including empty fields for full overview.

Clear indicators of what will be kept and what will be merged using color-coding and typography.

Full activity log for each lead.

Help texts to allow you to understand your options.
The detailed merge view lets you easily compare and merge two leads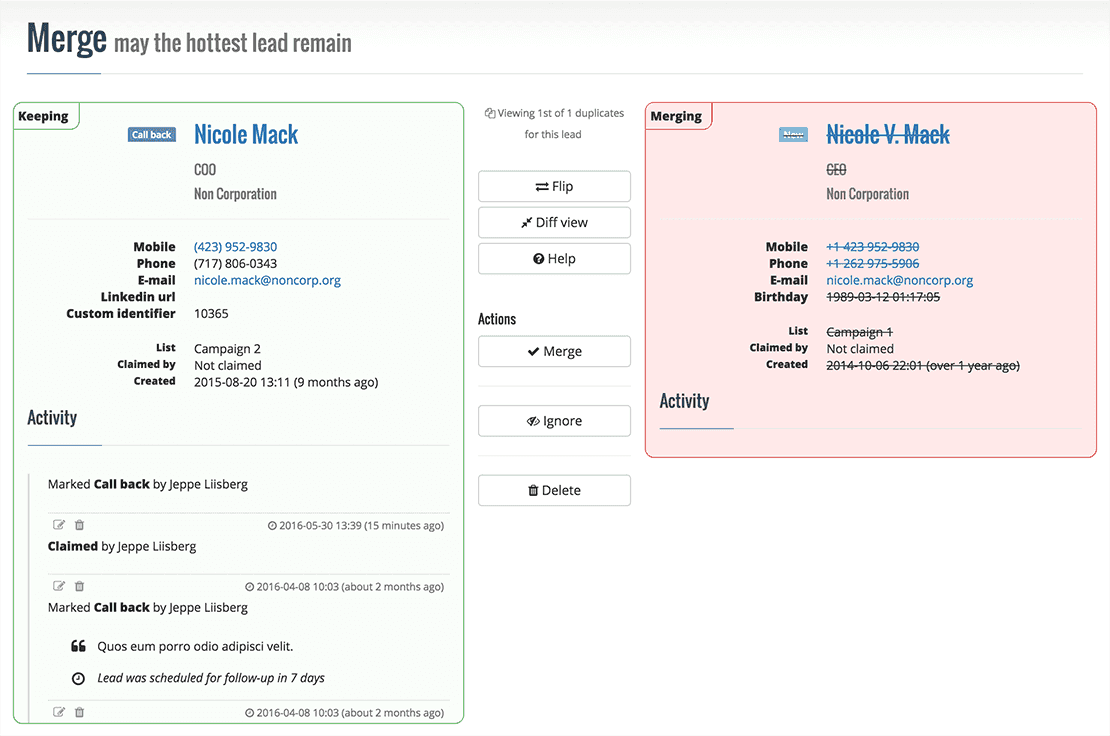 empezar en minutos. 14 días de prueba gratis en todos los planes.